:: We Are What We Think ::
The forum ended early and I speeded home.
While the forum was meant to be motivational (and somewhat evangelistical, to me)
I remain unmoved.
A friend smsed me:
"A lot of mixed feelings now.
On one hand, so v for the org but couldn't help but feel
I'm ostracized .....Quite overwhelmed."
I replied:
"It is an organisation.
That's all.
To me."
While I remained unmotivated by the forum,
it doesn't imply that I'm unprofessional and that I am unable to self-motivate.
I have the confidence to deem myself as the better of the lot.
In every organisation I see I notice jaded people, people who resign themselves to the supposed fate that they're in.
Mired in despair, they're just contented with a 9-5 routine and will not do more.
It's scary that we're supposed to be at the prime of our lives yet feel this way.
And everything goes downhilll henceforth.
And while I remained unmotivated,
I decided to go for a run. ECP. Yups.
Running on tunes like PumpItUp, HollerbackGirl, MyGoodies, GodIsADJ, Bryana-remix is so so very good.
I actually ran more!
On the topic of WeAreWhatWeThink, while I was jogging,
my mind went back to the previous topic about me and my JC friends.
For a couple of occasions I've interacting with friends of my age or somewhere near.
I realised that somehow they all seemed older than me.
Not just in appearance
but also in behaviour.
(behaviour, not maturity.)
It struck me that perhaps I am not acting my age;
that I willingly put myself in a subservient role in terms of age-seniority.
If that is the case, would a person who is always in the company of younger folk,
but somewhat younger lookswise and mannerwise?
Wonder.
And as all of us grow older by the year,
It is only a matter of time that time slaps us hard in the face.
When we look at the mirror and realise that we're trying to hard
to fit into an era that is long gone.
Perhaps it's time to don that polo tee instead of that OP beach singlet?
Or do we need to wait till someone says "Grow up!"?
Then again, if we're happy, do we need to care?
Wonder.
My mind meanders too much.
And while I'm still jogging with the company of LoveProfusion, ToTheClub, Doncha,
My mind divagates further to the newspaper article I read on Today this morning
about the elderly population living in Singapore and how they're not living
with their children.
What keeps the old alive?
While the young ones have dreams and hopes and the future to strive for
What keeps the older ones alive are memories of the glorious past.
And the defining moments.
Just last night, someone mentioned that he has no time for journalling.
I explained, "journalling is probably the best investment of time you can have."
"Photo-taking as well."
For come twenty years and more, when the hairs turn grey and then to white,
what we have are memories:
happy faces at birthday parties;
that sudden trip to argentina;
that day that you thought that you could go on no further;
that moment someone said to you, "I love you"...
everything that could possibly mean something, and should mean something.
Let's try to capture it and put it somewhere safe.
Else it'll fade out from existence,
from our memories
and will never come
this
way
again.
++++++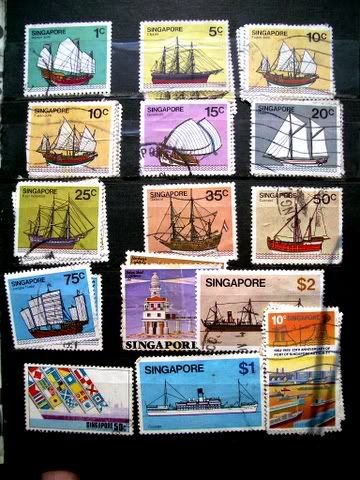 Memories from the eighties - do you remember?
Found in my stamp album that I forgot I actually had.
PS: I think too much.